Door Installation 20772, Upper Marlboro, Maryland Locals Can Trust
Are you researching door installation 20772 services in Upper Marlboro, MD? You might not realize, but the entrance doors to your office or house reveal a good deal regarding what lies ahead beyond those doors. If the doors are shabby and out-of-date, what message would you think is portrayed to the neighborhood concerning your home or business? From time to time, it's necessary to replace those dated doors or to carry out frequent upkeep.
We supply full Prince George's County door installation assistance for residents and business owners in Upper Marlboro, MD with high quality and quick service, transparent pricing, and 'round the clock door services. We're your go-to, trustworthy business that proudly offers outstanding services to residents of Upper Marlboro. Our technicians are extremely skilled and experienced, and we concentrate on repairing and replacing garage, residential, and commercial doors.
There are various great reasons to consider the replacement or maintenance of a door. Exposed doors usually take a beating from Mother Nature during the toughest seasons of the year and overtime, endure plenty of wear-and-tear that replacement is important. Sometimes, a door's appearance becomes out-of-date and it's time to give it an update to something more current.
On the other hand, the door might simply be needing routine maintenance like mending door hinges, the door frame, and/or the doorjamb. Interior door repair and installation happens for reasons like wear-and-tear or malfunctioning door hardware. The good news is that regardless of if the doors to your home or office will need maintenance or a complete upgrade, King Door and Lock Maryland and DC has your garage, home, and commercial door repair and door replacement needs taken care of.
We Install Garage Doors in Upper Marlboro, 20772, MD
The garage to your property has a couple of important jobs. It's the place where you probably park your car or where you store personal belongings. It is also an entry point to your house, meaning if the garage door to your home isn't functional it could be open to a burglar or worse.
Moreover, if the garage door to your property breaks because of a defective sensor or motor when you are on your way to work, you may be incapable of exiting the garage. It could also bring about serious injury.
This can be prevented by having your garage door inspected by a professional and with 24-hour garage door repair service in 20772, MD. During the evaluation of your overhead door(s), when a concern is discovered by our skilled technicians, we'll tell you which repairs are required to prevent issues later.
Door Repair and Installation for Houses in 20772, MD
Nothing seems more annoying than having a door that won't open or close correctly and this may turn into a safety concern, particularly when it involves the balcony doors of your home and front door replacement. Should your property's sliding glass doors break, just about anyone can get access to your home. This is a security issue. The good news is, residents of 20772, Upper Marlboro will be able to trust King Door and Lock Maryland and DC to repair damaged patio doors in Upper Marlboro, MD.
The other kinds of Upper Marlboro, MD installation and repair for residential doors services our company offers include:
installing pocket doors
installing closet doors and other interior doors in your home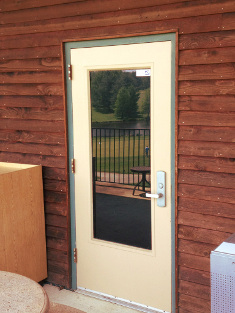 20772 Office Door Repair and Installation Service in Upper Marlboro
Our company specializes in the replacement and repair of industrial doors including:
automatic doors
storefront door installation
If you own a business, then it's imperative that you maintain the doors to your office. This includes both the external and internal doors. It is necessary to keep the individuals who open and shut your office's entry doors protected. Whenever a door is not in working order, especially an automatically closing/opening door, it could result in an unfortunate injury. Moreover, if the automatic doors to your business are not working properly, it could affect energy bills as well.
If you have a door in need of repairs, we'll tell you honestly whether or not it's cheaper for you to repair the door or to replace it. With honest, upfront prices, expert technicians, and a helpful staff, expect services that meet or exceed your expectations. Give King Door and Lock a call for a free estimate and to learn more about our door installation 20772 assistance!
No door replacement or repair job is too large or small for our technicians. And because we're local, we pride ourselves on outstanding customer support and offering professional services. Phone us immediately if you are considering replacing the doors to your home or business, or if your doors require servicing or repairs.
Click to Call from a Mobile Phone (800) 231-5499