Steel Door Installation and Repair by King Door and Lock Maryland and DC
Quality Installation and Repair of Steel Doors for Commercial Establishments
In the market for a new steel door for your DC or Maryland business?
If you are in need of steel doors for your office building or factory, or the doors you have are coming off their hinges, be sure to call our professional door experts for all your steel door installation and repair needs. Our fast and friendly team at King Door and Lock Maryland and DC offers 24/7 door services. Our technicians have the high tech tools and equipment needed to handle all your steel door needs.
While we also offer high quality wood door installation services, sometimes only a steel door will do. A steel entry door, combined with a strong lock, adds a higher level of security to any building. Steel doors also offer a much tougher barrier to slow the spread of fire when they are used as an interior door in your business. King Door and Lock replaces steel fireproof doors in Maryland and DC. Steel's strength and resilience are unmatched, making it the material of choice for the doors on your commercial property. Our fast and friendly service and up front pricing makes us the company of choice for all your steel door installation and repair service needs.
If you are looking to replace that wooden door with something more sturdy, then give us a call at King Door and Lock Maryland and DC. We offer complete steel door services with our skilled technicians, competitive pricing, and honest service. If one or more of your current doors are simply in need of repair, then our team will take a look at them and tell you exactly what you need done. You may only require a door hinge repair or perhaps a door jamb repair. If the fit seems off between the door and the frame, then a door frame repair may be necessary. Our techs have the expertise to tell you exactly what's wrong, and with our up front pricing you will know ahead of time exactly what it will cost for us to fix it.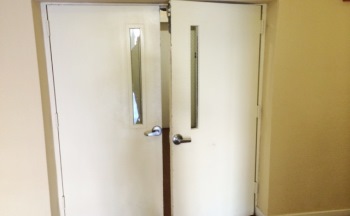 If you are establishing a new building or opening a new wing in your existing one, you will need doors installed. Steel doors should be a serious consideration when looking for new security doors installed by King Door and Lock Maryland and DC. With our 24/7 availability, friendly staff, competitive rates, and highly trained door exerts, we should be the obvious choice to install those doors for you. Our techs will show up with the door hardware that they need to complete your job both quickly and professionally.
For your steel door installation and repair service needs, look no further than King Door and Lock Maryland and DC. Steel doors are great as an exterior door. They will make your entire building more secure. Any thief or vandal would have a much harder time getting through a steel entry door. They also enhance safety when used as interior doors by adding extra protection to secure parts of the building and are a far better fire break than traditional wooden doors. Please call us today for a free estimate on how we can help you.
Click To Call on a Mobile Phone