Automatic Door Closers - Installation and Repair
We Install and Repair Automatic Door Closers for Commercial Establishments in DC and MD
Looking for a company in DC or MD that installs and repairs automatic door closers?
At King Door and Lock Maryland and DC, we offer services for all automatic door closers on the market. We know how to manage automatic door closers that are attached to commercial buildings and can repair small parts of door hardware that are broken. Commercial doors are used so often that you need to have them serviced often. Their proper function also reflects on the professionalism of your business. We offer 24/7 door services that are fast and friendly, and we make sure that you get up front pricing to ensure it falls within your budget.
The General Service
Our technicians recommend servicing commercial doors in MD and DC once or twice a year to keep them running. If you want to avoid an inconveniently-timed emergency, you can schedule regular maintenance appointments. These maintenance appointments give us a chance to install and repair automatic doors in your building.
We can check on all the hardware in the building, and we replace small parts that have broken. These small service appointments can prevent more serious problems in the future.
Automatic Door Closers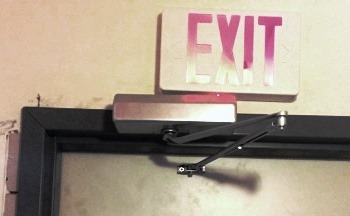 Automatic door closers are useful in large commercial buildings because they make all your work happen faster. If we need to install and repair automatic door closers, we offer free estimates on all our services. We can show you what must be done to repair the closers, or we can recommend new door closers that you might find more appealing. We offer complete services to make sure that you have all the options you need to make an informed choice.
Estimates
If you have concerns about the cost of a service or repair, we can give you an estimate for all the work that needs to be done. We will make sure that you get up front pricing for our work, and we will ensure that you understand what work must be done. We do not work with customers who are confused until we are sure that you understand what we need to do in your building.
When you work with King Door and Lock Maryland and DC, you will find that we have all the answers to your commercial door problems. These doors can be repaired or installed with relative ease, and we complete many repairs in a matter of minutes.
The efficiency of your building is at stake, and we want to be there to provide you with the best service you can get. Most services provided by our technicians do not take long to complete, and we offer the most fair pricing in the area on each and every one of our services.
Click To Call on a Mobile Phone