Fire Rated Door Installation and Repair in MD and DC
Quality Installation and Repair of Fire Rated Doors
If you need to install or repair a fire rated door for your MD or DC business…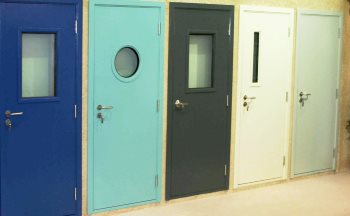 King Door and Lock Maryland and DC is here for all your fire rated door installation and repair needs. Fire-rated doors are a necessary component in any building's passive fire protection design. Whether they are required by local fire codes or not, you invested a lot of money in your office building, factory or plant. If a fire breaks out you want to make sure it spreads as little as possible so that any damage is minimized. Our company will install many types of quality doors for you, but to slow the progress of a fire, you need experts in installing and repairing fireproof doors.
Our fire-rated door installation and repair services are available in all of Maryland and Washington, D.C. As a business ourselves, we understand that you have to keep an eye on your bottom line. Some of the fireproof doors we specialize in include installing steel doors in Washington DC and Maryland. With our up front pricing and competitive rates, you will both know and like what you will be paying for our 24/7 door services. There will be no surprises on the bill after the work is done.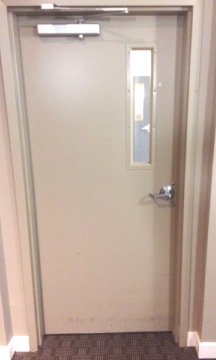 Our technicians are highly trained fire-rated door installation and repair experts who provide professional and dependable service. They have the training and the high tech equipment and tools to handle any door installation and repair job. Our team will be able to determine if your door needs replacement or if it might just need a door jamb repair or perhaps a door hinge repair. Sometimes you may need a door frame repair instead of a new door.
Our team will have to expertise to make sure that any repairs and replacements are up to code with regard to any state or local safety regulations regarding fire doors and their components. They will repair, replace or install both interior doors and exterior doors. They will professionally estimate the job for you and they have the door hardware they need, to handle just about any situation, with them when they go out to your business.
For all your fire rated door installation and repair needs, please call King Door and Lock Maryland and DC today. Your fireproof doors are an integral part of the safety of your building and employees. If they become worn or in a state of disrepair, they may not be doing their job as effectively anymore. You may also find yourself in a situation where you need such doors installed in the first place.
Perhaps you just built a new building or expanded an existing one and there are places where you need fire-rated doors. Our 24/7 door services at King Door and Lock Maryland and DC offer competitive rates, up front pricing and fast and friendly service to see to all your door needs both quickly and at a price you will like. Our technicians have the training, expertise and tools to handle your job, big or small, simple or complex.
Click To Call on a Mobile Phone