Panic Hardware for Commercial Establishments in Maryland and DC
King Door and Lock installs and repairs various types of panic hardware for your business
Need to install panic bars or push bars for your commercial doors?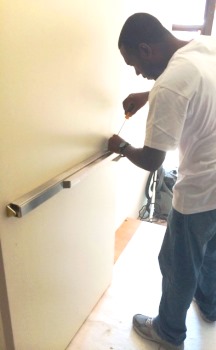 Having panic hardware installed on your commercial doors is key to the safety of your customers and employees as well as for the protection of your property against theft. Allowing the people in your building to exit quickly in the event of an emergency with just the push of a panic bar and not having to search for locks or knobs to turn can make all the difference during a panicked exit.
Not only is the safety of everyone in your building a priority, but also protecting the integrity of the interior from theft is also an important issue. Should you find a flaw or break in your current door system, we are equipped to handle any type of repair needed to regain the protection and well-being of your building. Our commercial door specialists are extremely educated in push bar systems and are experienced in finding the right commercial door lock hardware for your needs.
When you have emergency only exits, having someone fleeing from a crime that has just taken place can be a big problem. We can lessen your worry by installing an alarm system to any of your doors with panic bars to avoid a discreet escape.
Our highly trained door experts at King Door and Lock Maryland and DC have the knowledge and experience to provide you with fast and friendly 24/7 door services. Each technician has a minimum of five years of experience in installing and repairing quick exit systems, and all are equipped with the high tech tools and equipment necessary to handle any safety and security issues by providing the correct quick release locking devices on your commercial doors where needed.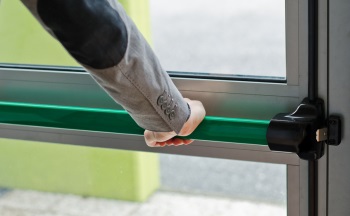 Dedicated to your complete satisfaction, not only will our door experts provide you with up front pricing before completing any task on your panic hardware system. Let one of our trained experts conduct an assessment of your particular needs to find the right combination of safety and security for your building. Replacement, repair or installation of push bars will be done to meet all code requirements, and we provide service to Maryland, DC and the surrounding areas. Our excellence in service is evident by our prompt, friendly response to your door and hardware needs, whether replacing, installing or repairing your panic hardware system.
Whether your needs are for a government building, hospital, supermarket or office building, King Door and Lock Maryland and DC offers honest assessments and comparable up front pricing on our panic hardware systems to ensure you receive only the right products for your particular needs. We install and repair panic hardware systems for any type of business big or small. Our friendly, reliable staff looks forward to hearing from you at any hour to deliver prompt 24/7 door services.
Click To Call on a Mobile Phone