Profile Cylinder Locks (Euro-Profile Locks) Installation, Repair, and Rekey
Professional Installation, Repair, and Rekey of Euro-Profile / Profile Cylinder Locks
Need to install or rekey profile cylinder locks for your residential or commercial property?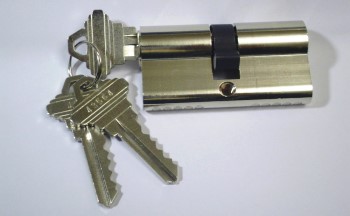 We at King Door and Lock Maryland and DC are your experts in profile cylinder locks also known as euro-profile locks. Cylinder type locks are a popular choice for office buildings, factories, or any other business. They offer tremendous security advantages over standard lever style locks. Cylinder locks enable people with higher general access clearance to more parts of the building to have master keys that will open nearly all doors. Each of these doors may also have their own keys that will only open that particular door. This would enable access of lower level employees or temporary contractors to be restricted to specific areas. King Door and Lock specializes in installing master key systems in Washington DC and Maryland. The key difference available with cylinder locks enhances overall security and makes them an ideal commercial locks solution.
Our team of highly trained lock experts can install and repair profile cylinder locks, also known as euro-profile locks, for your home or business. We are known for our fast and friendly service and our 24/7 door lock services. We are there when you need us to fix whatever problem you are having with your cylinder locks. Are some of the keys not working in the lock anymore? Does the lock appear loose or unsecured in some way? Our technicians can diagnose the problem and let you know if you will need a repair or replacement. They will then provide you with up front pricing for the cost of our services so you know ahead of time exactly what you will be paying.
Our profile cylinder locks service covers residential locks as well as commercial locks. If you have cylinder locks anywhere in your home, our technicians can have a look at the problem and tell you exactly how they can solve it for you. It may be a simple rekey for the lock or it may need some type of repair or possibly a replacement. We at King Door and Lock Maryland and DC offer our profile cylinder locks in various finishes and styles to match the decor of your existing door. We offer chrome, nickel, brass, and other finishes as well as modern or traditional styles.
At King Door and Lock Maryland and DC, we offer 24/7 door lock services that come with fast and friendly service and up front pricing. Our highly trained technicians can install and repair your commercial and residential profile cylinder locks both quickly and at a price you can afford. Our honest, dependable techs will accurately assess your specific situation and tell you only what you need to have done to fix the problem. Please give us a call today for a free estimate.
Click To Call on a Mobile Phone