Best Storefront Commercial Door Services In MD & DC: Door Repair, Door Installation, & Commercial Glass Door
Thorough Installation and Repair of Storefront Doors in Maryland and Washington DC
Revamp Your Storefronts: Expert Commercial Door Installation in MD & DC
A storefront is the front-facing exterior of a business establishment, typically featuring large glass windows and doors that allow passersby to see inside. Storefronts serve as a crucial element in attracting customers by providing a visual display of products, services, or the ambiance of the business.
Storefront doors play a pivotal role in creating an inviting and secure entrance. They enhance the aesthetic appeal of the business while also ensuring safety. King Doors and Lock, a trusted provider of commercial door services, offers comprehensive solutions for storefronts, including installation, repair, and maintenance.

Our expertise in storefront doors encompasses a range of benefits:
Aesthetic Appeal: Well-designed storefront doors can significantly enhance the visual appeal of your business, creating a positive first impression.
Visibility: Glass storefront doors and windows allow natural light to enter the premises, brightening the interior and making it more inviting.
Security: King Doors and Lock offers advanced security features, ensuring that your storefront is protected against intruders and vandalism.
Energy Efficiency: Our energy-efficient storefront doors help regulate interior temperatures, reducing heating and cooling costs.
Durability: We provide durable and reliable storefront doors that are built to withstand heavy foot traffic and adverse weather conditions.
Whether you need a new storefront door installation, repairs for existing doors, or upgrades to enhance security and energy efficiency, King Doors and Lock is your trusted partner. Please contact us today for top-notch storefront door services, including window repair, glass door repair, and door hardware installation, that will make your business stand out and provide peace of mind.
Door Repair Solutions: Transforming Maryland & Washington DC's Commercial Entrances
Commercial doors play a pivotal role in the functionality and security of businesses in Baltimore and throughout Maryland. When these doors experience wear and tear or malfunction, it's essential to seek prompt repair services to ensure the smooth operation of your business.
Benefits of Door Repair in the MD Area:
Enhanced Security: Malfunctioning doors compromise the security of your commercial space. Door repairs address issues like broken locks or hinges, ensuring your business remains secure.
Cost Savings: Repairing a door is often more cost-effective than replacing it entirely. It helps extend the lifespan of the door and delays the need for a costly replacement.
Minimized Downtime: Prompt door repair services minimize disruptions to your daily operations, allowing your business to continue running smoothly.
Improved Accessibility: Door repairs can enhance accessibility, ensuring that customers and employees can enter and exit your premises without difficulty.
Energy Efficiency: Repairing gaps, cracks, or damaged seals on doors can improve energy efficiency, reducing heating and cooling costs.
When considering door repair solutions for your home or business, whether you're looking to fix a manual door or any other type, don't hesitate to give us a call. We specialize in door repair throughout the Maryland area, including Washington, D.C. Our experienced technicians are well-versed in resolving a wide range of door-related issues.
At King door & lock, we prioritize your satisfaction and security. We adhere to strict website accessibility policies, ensuring that our services are accessible to all. We do not share your information without your consent and strictly enforce conditions of use to protect your privacy.
By choosing our door repair services, you're not only ensuring the longevity and functionality of your commercial doors but also contributing to the safety and efficiency of your business.
Contact us today for expert door repair solutions that will transform your commercial entrances.
Glass Repair Excellence: Elevate Your Commercial Doors in MD & DC
Glass doors are a hallmark of modern commercial architecture, offering both aesthetic appeal and functionality. Whether you are looking to install new commercial glass doors or seeking repair services, understanding their benefits and the importance of timely repairs is crucial.
Glass doors are transparent or semi-transparent doors made of glass, often used in commercial settings to enhance visibility and create an inviting atmosphere. They are popular for their ability to allow natural light into the space while providing a clear view of the interior.
Benefits of Glass Doors:
Enhanced Aesthetics: Glass doors create a sleek and contemporary look, making your commercial space appear more inviting and modern.
Natural Light: They maximize the use of natural light, reducing the need for artificial lighting during the day and potentially lowering energy costs.
Visibility: Glass doors offer a clear view of what's inside, which can be especially appealing for businesses showcasing products or services.
Spacious Feel: The transparency of glass doors can make a space feel larger and more open.
Durability: High-quality commercial glass doors are durable and resistant to wear and tear.
Reasons for Repairing a Glass Door
Timely glass door repair is essential to maintain the integrity of your commercial doors. Whether it's due to window replacement, broken glass, or general wear and tear, addressing issues promptly has several advantages:
Safety: Repairing cracked or shattered glass ensures the safety of occupants and customers.
Energy Efficiency: Well-maintained glass doors help regulate indoor temperatures, reducing energy costs.
Aesthetics: Repairing minor damages maintains the aesthetic appeal of your storefront.
Longevity: Timely repairs can extend the lifespan of your glass doors, delaying the need for replacements.
When seeking installation and repair services for your commercial glass doors in MD and DC, it's crucial to partner with a reliable installer. At King Door & Lock, we excel in providing glass repair excellence. Our experienced team understands the importance of maintaining the functionality and aesthetics of your glass doors.
Elevate your commercial doors in MD & DC with our expert glass repair services. Contact us today to ensure the continued excellence and performance of your glass doors.
Efficiency Meets Style: Commercial Door Installation in Maryland & Washington, DC
When it comes to enhancing the appeal and functionality of your business in the Washington, DC area, choosing to install a commercial door offers a multitude of benefits:
Benefits of Commercial Door Installation:
Enhanced Security: Commercial doors are designed with security in mind, providing robust protection for your business assets and peace of mind.
Energy Efficiency: Modern commercial doors come with energy-efficient features that help regulate indoor temperatures, reducing heating and cooling costs.
Aesthetic Appeal: From storefront glass doors to stylish patio doors, commercial doors make a lasting and attractive first impression on your customers.
Expert Installation: Professional installers ensure that your commercial door is properly fitted and functions seamlessly, guaranteeing its long-term performance.
Accessibility: Commercial doors are designed to comply with accessibility standards, making your business welcoming to all customers, including those with disabilities.
Durability: Commercial doors are built to withstand heavy foot traffic and adverse weather conditions, ensuring they last for years without significant wear and tear.
Customization: You can choose from a variety of commercial door types, materials, and finishes to match your specific business needs and style preferences.
Whether you're looking to replace an old door, install a new one, or need emergency commercial door services, give us a call today. Our services extend throughout Maryland and Washington, DC, making us your reliable partner for all your commercial door installation and repair needs. Contact us for a free estimate and experience the efficiency and style that commercial doors bring to your business.
Patio Doors Reimagined: Energy-Efficient Solutions for MD & DC Businesses
Patio doors, often overlooked yet essential elements in modern commercial spaces, are experiencing a renaissance in Baltimore businesses. These versatile doors not only connect indoor and outdoor spaces but also contribute significantly to energy efficiency and aesthetics.
Understanding Patio Doors:
Patio doors are large, often glass-paned doors that provide a seamless transition between indoor and outdoor areas. They come in various styles, including sliding, hinged, and folding, allowing businesses to choose the design that best suits their needs and aesthetic preferences.
Benefits of Patio Doors:
Energy Efficiency: Modern patio doors are designed with energy efficiency in mind. They offer excellent insulation, reducing heating and cooling costs while allowing natural light to flood your interior spaces.
Aesthetic Appeal: Patio doors create an open and inviting atmosphere, making your business more appealing to customers. They enhance the overall aesthetics of your space and leave a lasting first impression.
Versatility: Patio doors can be customized to fit various settings, from restaurants and cafes to offices and retail stores. They seamlessly connect your indoor and outdoor spaces, providing flexibility in how you use your commercial area.
Increased Property Value: Installing patio doors can increase the value of your commercial property, making it a valuable investment in the long run.
Our Expertise in Patio Doors:
At King Door & Lock, we specialize in providing top-notch commercial door installation and repair services in Maryland and Washington DC. Our licensed and insured team is experienced in patio door installation, ensuring that you get the most energy-efficient and aesthetically pleasing solution for your business.
Whether you need new door installation, repair services, or energy-efficient upgrades, we're here to meet your specific door needs. We have years of combined experience in handling various types of commercial doors, including steel, aluminum, and automatic doors. Our goal is to ensure you get the best value for your investment and a door that redefines the way your business operates.
If you're looking to reimagine your business space with energy-efficient patio doors in the MD or DC area, please contact us today for a free estimate. We are fully committed to ensuring you get the best in terms of aesthetics, energy efficiency, and functionality for your commercial space.
Summary of Our Commercial Door Services: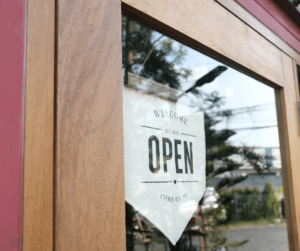 Commercial Storefront Door Installation
Glass Storefront Door Installation
Glass Storefront Door Repair
Glass Storefront Door Replacement
Commercial Storefront Door Locks Replacement or Repair
Storefront Gate Repair
Storefront Keyless Entry Installation and Repair
Commercial Storefront Door Locks Replacement or Repair
Privacy Policy:
Safeguarding Your Information and Content
At King Door & Lock, we understand the importance of your privacy and the value of the content on this website. This privacy policy outlines our commitment to protecting your information and ensuring the integrity of our content.
Information Collection:
When you visit our website, we may collect certain information, such as your IP address and browsing behavior. This information helps us improve our website and tailor our services to your needs. We use Yext knowledge tags to enhance the user experience within the editor, making it easier for you to find relevant information.
Content Usage:
The content on this website, including images and text, is the property of King Door & Lock. You are welcome to use the information for personal reference and education. However, copying any content, including images, without our consent is strictly prohibited. We are committed to protecting the integrity of our content and maintaining its accuracy.
Privacy Protection:
We take your privacy seriously. We do not share your information, including your browsing behavior or personal details, with third parties without your consent. Your information is used solely to enhance your experience on our website and to provide you with relevant content.
Your Choices:
If you have any concerns about your information or wish to request access to the data we collect, please feel free to reach out to us. We respect your right to control your data and will provide you with the necessary information and tools to do so.
Conclusion:
At King Door & Lock, your privacy and the integrity of our content are of utmost importance to us. If you have any questions or concerns regarding our privacy policy or content usage, please don't hesitate to contact us. We appreciate your trust in us and are committed to safeguarding your information and providing valuable content on this website.
Frequently Asked Questions About Our Commercial Storefront Door Repair, Door Installations, and Other: 
What are the advantages of energy-efficient commercial windows?
Energy-efficient commercial windows not only enhance the appearance of your storefront but also improve insulation, reducing heating and cooling costs. Contact us for installation services in MD and DC.
How can I request a free estimate for commercial door repair, door closer, and new door installation?
To receive a free estimate for commercial door repair and installation in Baltimore, please call us or visit our website. We're fully licensed and insured for your peace of mind.
Do you offer emergency commercial door repair services?
Yes, we provide emergency commercial door repair throughout Maryland, including the Washington, DC area. Contact us anytime for fast and reliable door repair services.
Can you help with storefront glass door replacement?
Absolutely, we specialize in storefront glass door replacement and repair. Our team has years of combined experience ensuring you get the best service.
What type of commercial doors do you install?
We offer a wide range of commercial doors, including steel doors, aluminum doors, automatic doors, interior and exterior doors, and more. Contact us today to discuss your specific door needs.
Click To Call on a Mobile Phone