Installation and Repair of Keypad Locks for Homes and Businesses in Maryland and DC
Professional Keypad Lock Installation and Repair Services
Thinking about keypad locks for your MD-DC home or business?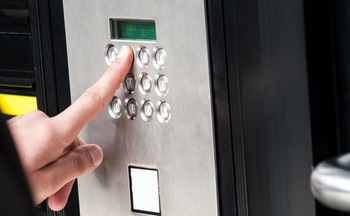 If you are looking for a door and lock company that offers keypad locks installation and repair service you are in the right place. King Door and Lock Maryland and DC has been providing high quality services to customers for many years, and we can help you with all of your keypad entry needs. We are licensed, bonded, and insured, and we are local. We provide honest, up front pricing, and you can contact us anytime for fast and friendly service.
Electronic locks ensure that your doors always remain locked so you never have to worry about getting locked out of your home or office, and you no longer need to worry about taking your keys with you wherever you go. With these locks, you can quickly change codes in just a few seconds. For example, if you're away, but you need someone to get into the house or office, you simply create a user code and give it to the person ahead of time. You can quickly add and delete codes. Or, maybe you don't want to keep rekeying and changing locks each time an employee, tenant, or guest leaves. With electronic locks such as keypad locks, you simply change the code. We also specialize in other high tech locks such as installing and repairing biometric locks in DC and MD.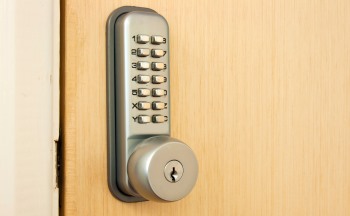 It is important that you use the services of a well-established company and not just anyone who claims to be a lock expert. Consider your safety when you are deciding on a lock specialist or company in the Maryland and DC areas. Not only do you need to choose a company that provides outstanding service, you also want to ensure that the company offers reasonable prices.
At King Door and Lock Maryland and DC, we install and repair keypad locks at affordable prices. We have dedicated professionals who have been have rendering excellent services to customers for many years. Our highly-trained technicians use high tech equipment and tools to provide efficient services. Our technicians are well experienced in both residential locks and commercial lock installation and repair in MD and DC.
Whether you need residential locks or commercial locks, we've got you covered with our fast and friendly service. Our 24/7 door lock service experts can install and repair your home or office's keypad locks. We have an unsurpassed reputation in the industry and among residents and businesses in Maryland and DC areas. We are happy to respond quickly to any keypad lock issue you may have.
King Door and Lock Maryland and DC is the most trusted company for keypad locks in Maryland and Washington DC. We have numerous customers who recommend our services to their friends, relatives, colleagues, and acquaintances. Our highly dedicated, fast and friendly electronic lock technicians provide 24/7 door lock services and are ready to install and repair your locks for you. They are honest, polite, and they render their service with professionalism. And we also provide up front pricing. Give us a call immediately to find out how we can help you with any keypad lock issues you may have. We provide free estimates.
Click To Call on a Mobile Phone