Lock Installation 20002 Service for Noma, DC and Adjacent Regions
Protecting your home and business is more critical than ever. That's the reason it is essential to make certain that the locks on your office and home are in working order. For those who have vintage locks which are more aesthetically pleasing than practical, it's to your advantage to have them replaced. Business owners and residents in NoMa, DC can easily call King Door and Lock for superb lock installation 20002 services.
Our technicians have been mounting traditional and electronic locks in DC commercial and residential properties for many years. We account for the unique demands of the vicinity and are able to install the ideal lock sets for any 20002 house or office in Noma, DC. We utilize the most well-known lock brands and are able to provide our clients with the leading lock repair and installation in Noma, Washington, DC. Our professionals are skilled, well-trained, and accredited, and will promptly and professionally install the lock set of your choosing or switch out, fix, or rekey the existing lock.
Commercial Locks Repaired & Rekeyed in Noma, 20002, Washington, DC
Our lock techs can set up the best lock for your company. We've got lock sets that are able to keep the whole business secure. Our technicians are also able to install fob access control systems to restrict usage of particular areas. Your business needs different lock sets than your house. We can install commercial locks for 20002 offices. When it comes to the commercial locks, our company offers:
Keypad Locks
Electronic Deadbolts
Grade 1 Locks
Residential Lock Installation Service in 20002, DC
Your home's locks are meant to protect your family members. Just contact King Door and Lock and we'll audit your property and supply the most beneficial lock sets out there. Have young children in the house? We can easily set up exterior and interior locks that they won't be able to easily unlock putting themselves and everyone else in your home in danger. Our technicians will even mount electronic entry door locks.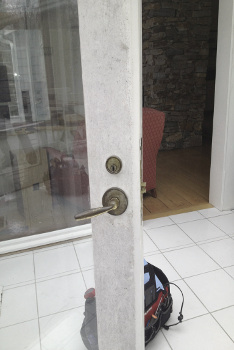 We also specialize in re-keying, replacing, and repairing any lock set in your residence. In the event you lose or break your keys, damage your lock sets, or in case your exterior door locks are starting to show wear and tear, call King Door and Lock. Irrespective of where in the 20002 area you reside, our techs are able to promptly arrive at your home and make new keys, or repair or replace any of your exterior door locks.
Overhead Door Lock Repair and Installation
Is the locking mechanism on your overhead door not in proper working order? Using a properly working garage door lock set is specifically critical for those who store a lot of valuable items inside or if there is an entry point to your residence. For anybody who is having troubles with your overhead door lock sets, just call King Door and Lock. We can install mortise lock sets for wooden garage doors, enhance your garage door locks, repair or change rim cylinder locks, thereby leaving the garage doors more safe than ever.
The Leading Lock Installation 20002 Company in Noma, Washington, DC
A growing number of homeowners and business owners trust in King Door and Lock for their garage door, home, and commercial lock replacement, installation, or repair. We're experienced, qualified, dependable, and sincere. Additionally, we're local, offer honest prices, and have the most up-to-date tools and equipment. You can expect courteous and professional, 'round the clock assistance for household locks, commercial locks, and garage door locks. Whether you need to have a lock replaced, new lock sets, lock rekeying, or door equipment, contact King Door and Lock Maryland and DC.
Want complete service for your door locks and trusted lock installation 20002 assistance in Noma, Washington, DC? Call King Door and Lock for a free estimate! We are able to replace, repair or install locks for your business, residence, or garage at reasonable prices.
Click to Call from a Mobile Phone (800) 231-5499