Door Lock Change and Installation Services in Washington, DC
Consider the expertise of our locksmith in Washington, DC, to provide you with professional lock change and installation services. Here's why it matters:
Door Lock Change: When it comes to door lock change services, a skilled locksmith can help you replace your locks with precision and efficiency. This process is vital for several reasons. First, it ensures that your locks are in top working condition, reducing the risk of unexpected failures. Second, it allows you to upgrade to more secure lock systems, such as high-security locks, providing an additional layer of protection for your property. Finally, a lock change provides peace, knowing that your security is up-to-date and reliable.
Door Lock Installation: Whether you're moving into a new property or simply want to bolster your existing security, door lock installation is key. A professional locksmith can assess your needs and recommend the best type of lock for your home or business. With affordable prices and a commitment to your security, they'll expertly install the lock, ensuring it functions correctly and provides the utmost protection.
Benefits of Lock Change and Installation: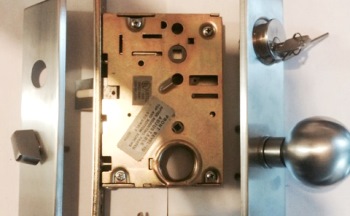 Enhanced Security: Upgrading to new locks or high-security options significantly bolsters your property's security, deterring potential intruders.
Peace of Mind: Knowing that your locks are in optimal condition provides peacefulness, ensuring your loved ones and assets are safe.
Home Security: Protecting your home or business is a top priority, and professional locksmith services play a crucial role in achieving this goal.
Locksmith Expertise: With a trusted locksmith, you receive the best locksmith services tailored to your specific needs, whether it's lock change, installation, or rekeying.
When it comes to the security of your home or business, prioritizing the right type of lock and ensuring it's properly installed are paramount. Trusting an expert locksmith in Washington, DC, ensures you receive the best service, affordable prices, and the peace of mind you deserve. Don't leave your security to chance—unlock the benefits of expert lock change and installation services today.
Enhance Security with Deadbolt Locks
These locks are an integral part of bolstering your home's security. In the DC metro area, a trusted locksmith can provide expert locksmith services to ensure your residential lock needs are met. But what exactly are deadbolt locks, and why are they essential?
A deadbolt lock is a type of high-security lock known for its reliability and robust construction. Unlike traditional spring-loaded locks, deadbolts use a solid metal bolt that extends deep into the door frame, making it extremely resistant to forced entry. This added security measure is particularly effective in preventing unauthorized access and burglary attempts.
The benefits of these locks are numerous. They provide peacefulness by prioritizing security. Locksmiths in Washington, DC, and the surrounding areas understand the importance of high-security locks, especially in urban environments. Deadbolts are nearly impossible to bypass without a key, and their sturdy build ensures they withstand tampering or physical attacks.
In the event of locked keys in a car or a need to change the locks, an expert locksmith can swiftly assist. They may recommend installing a deadbolt lock or repairing locks to ensure they work correctly. The lock company's priority is your security, which is why these locks are often the top choice for residential locksmith needs.
When it comes to your locksmith needs, particularly in the DC area, this lock is an excellent choice for enhancing security. Trust our locksmith to provide you with the best locksmith services, including rekeying locks, unlocking your car, or installing high-security deadbolt locks. Your safety and peacefulness are their top priorities.
Expert Lock Rekeying Services for Your Security
Lock rekeying is a vital service offered by locksmiths in Washington, DC, and the surrounding areas. It involves altering the lock's internal configuration to render existing keys ineffective. This process offers several benefits, including enhanced security, especially when moving into a new property or concerned about who may have access to your keys. High-security locks and mortise locks can also be rekeyed, ensuring your priority is security. If you lock keys in a car or need to rekey locks in Washington, trust an expert locksmith dc near you. Their expertise lies in lock rekeying, providing you with the security and peace of mind you need.
Trusted Experts in Locksmith Services: Contact Us Now!
We are your DC locksmith, an auto locksmith with extensive experience and a deep understanding of locksmithing techniques and security systems where our priority is the security of our customers. Below are our services offered:
Lock & Door Services:
Change Locks DC Service
Cylinder Lock Installation Service
High-Security Cylinder Installation Services
Smart Locks Installation Service
DC Lock And Key Service
Deadbolt Lock Installation Service
Mortise Lockset Installation Service
New Lock Installation Service
Power Lock Installation Service
Auto Lock Installation Services
Auto Locks Replacement Washington DC Area
Auto Locks Repair Service
Deadbolt Repair and Install Locks
Door And Lock Repair Services
Door Repair Services
House Door Lock Repair
Door Lock Installation Service
Door Lock Replacement Service
House Lock Replacement Service
Residential Lock Installation Service
Magnetic Door Lock Repair and Install
Have questions about services not mentioned here? If you are looking for "deadbolt installation near me" "door lock installer near me" "lock repairs near me" or "locks installation near me" you can see King Door & Lock is one of the top 10 door & lock companies.
Car Problem?
Remember this, when you find yourself in a jam with a car-related lock or key issue in Washington, our service can help, having a trustworthy locksmith near can make all the difference. We also offer high-security locks if you ever need to rekey or upgrade your locks for added security.
A car locksmith or automotive locksmith can swiftly come to your aid, whether you need help with a lost car key, locked keys in the car, or any issues with your vehicle's lock cylinder. In the Washington area code 202, our service is readily available for all your automotive lock needs. From high-security locks to rekeying, if you find yourself in need of new locks, we've got you covered. Don't hesitate to reach out when you need locks—our experts are here to help.
Feel free to give us a call for more detailed information.
Our Service Area
Maryland
Baltimore
Gaithersburg
Silver Spring
Rockville
Bowie
Bethesda
Germantown
Potomac
Annapolis
Columbia
And More!
Washington DC
Downtown
Palisades
Georgetown
Brookland
Bloomingdale
Woodridge
And All!
Click to Call from a Mobile Phone (800) 231-5499
Frequently Asked Questions About Our Lock Installation | Locksmith in Washington D.C
What should I do if I'm lockout of my home or car?
In case of a lockout, don't worry. Call us at (800) 231-5499 and our experienced locksmith technicians will arrive quickly and efficiently to help you regain access. Your security and peacefulness are our top priorities.
What services do you offer for commercial properties?
Our commercial locksmith services include lock change needs, rekeying locks, and ensuring all locks work properly. Whether you need to change your locks, rekey existing locks, or enhance security, our locksmith solutions are tailored to meet your business's security needs.
Can you help me if I recently moved into a new home or office?
Absolutely! When you've recently moved into a new home or office, it's essential to prioritize security. Give us a call, and we'll rekey your locks, change locks, or provide the best lock replacement services to ensure the peace of mind you deserve.
What should I do if I need a new key, key duplication or rekey, or any other emergency locksmith services?
If you need a new key, key duplication, or other emergency locksmith our locksmith team is here to help. We provide key duplication services, whether it's for your car, home, or business. Trust us to provide the best and most affordable locksmith services in the DC area.
How can I improve the security of my home or business commercial lock?
For enhanced security, consider high-security lock systems and access control solutions provided by our professional locksmith team. We offer a range of locksmith services, including lock replacement, rekeying locks, and more, to ensure your locks work properly and provide the best protection.