Door Installation 20716 Service Provider: Full Door Repair and Replacement for Bowie, MD
Are you looking for door installation 20716 service providers in Bowie, MD? You might not realize, but the doors to your office or house disclose a good deal regarding what lies ahead beyond those doors. When the entrance doors are unsightly and outdated, what message do you think is conveyed to the area regarding your home or business? Sometimes, it's a necessity to give those older doors an upgrade or to make timely repairs.
We supply complete Prince George's County door installation expertise for homeowners and business owners in Bowie, Maryland with professional and courteous service, honest pricing, and 24/7 door installation or repair. Our company is a local, trustworthy business that proudly provides superior services to Bowie locals. Our specialists are highly competent and educated, and we concentrate on repairing and replacing commercial, garage, and residential doors.
The benefits to installing a brand new entrance door in the 20716 area are countless. Maybe your exterior door is weathered and has seen better days? Or it could be that you are renovating and want a new front door to match your refurbished home or office.
And other times, the door may simply be needing maintenance service like door jamb repair, door hinge repair, and door frame repair. Clients usually call for repair or replacement of internal doors for causes like wear-and-tear or door components that require to be changed. Fortunately, regardless of if the doors of your office or home require maintenance or a complete upgrade, King Door and Lock has your garage, home, and commercial door repair and door replacement requirements covered.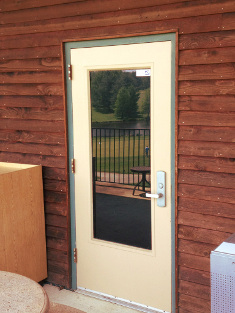 Commercial Door Repair and Installation in 20716, MD
Our company specializes in the replacement and repair of commercial doors including: storefront door installation, automatic doors, and installation of fire-rated doors.If you own a company, then it is important to maintain the doors to your building. It is important to keep the customers that go in and out of your office's front doors safe. When a door isn't working properly, notably an automatically closing/opening door, this could possibly bring about an unfortunate injury. Additionally, if the doors to your business aren't functional, this could have an effect on energy bills as well.
Garage Door Installation 20716 Services in Maryland
Because garages store valuable items such as vehicles and because they generally come with an entry point to your home, it's necessary to have a properly functioning overhead door to discourage burglars.
If your overhead door all of a sudden breaks, you may be locked out or in and unable to leave the garage unattended.
To prevent sudden garage door issues that occur at the most inopportune times, our techs work 24 hours a day to provide last minute overhead door replacement in the 20716 region of Bowie, MD. We are able to also make routine service calls to examine your garage door and make certain that the locks and components are functional.
Residential Door Installation and Repair
Your home is your haven and for that reason, you must have properly maintained doors to help keep your family free from danger. Have confidence in the techs at King Door and Lock to replace and repair all external and internal doors in your house. One of our areas of expertise features fixing and replacing patio doors for Bowie, Maryland houses.
In addition, we install and repair household doors for Bowie residents including: repairing entry doors; front door installation; interior services like the repair of bedroom doors, pocket doors, sliding glass doors, and closet doors.
Irrespective of your door service specifications, we've got them taken care of at King Door and Lock. Also, since we're local, we pride ourselves on superior customer service and offering premium services. Phone us ASAP when you are considering upgrading the doors to your residence or business, or if your doors require maintenance or repairs.
For those who have a door needing repair work, we'll inform you honestly whether or not it might be more cost-effective for you to repair the door or to replace it. With a warm and friendly staff, upfront pricing, and skilled techs, expect services that exceed your expectations. Call for a free quote or to find out more about our door installation 20716 solutions!
Click to Call from a Mobile Phone (800) 231-5499